December 10, 2019 • Food •

5 min read
The best office catering options in Glasgow
Delicious office catering options from Glasgow's best restaurants delivered straight to your office from Just Eat for Business, hassle-free!
2019 has been a busy year with lots of tasty lunches delivered, happy customers and a great variety of restaurants! Here at Just Eat for Business, we think good food makes a great company - get your team around the table every week with delicious meals from Glasgow's food scene.
Besides - what better way to bond as a team, than over delicious pizza or burrito bowls?
---
The Kilted Caterer

Locally sourced, fresh and seasonal Scottish produce and lots of character - The Kilted Caterer is full of delicious meals. Whether you're watching your waistline or want to indulge in true Scottish cuisine, they deliver it all.
Try a tasty and nutritious pomegranate seed salad tossed in citrus oil with spinach and feta or go for a more hearty option - haggis bon bons made with turnip puree, mash potato and - whiskey sauce, of course!
---
Proper Food Gourmet Caterer
With over 30 years of experience, Proper Food Gourmet Caterer has a tasty selection of meals ranging from salmon bagels to chicken breast in creamy peppercorn sauce. From healthy to hearty, no hungry stomach is left behind!
Whether you fancy a butternut squash, spinach and chickpea curry, seared fillet of Scottish salmon in hollandaise sauce or carrot cake flavoured granola in mascarpone cream and almond yoghurt - this team is dedicated to provide a great catering experience for you and your team.
---
Romans Pizzeria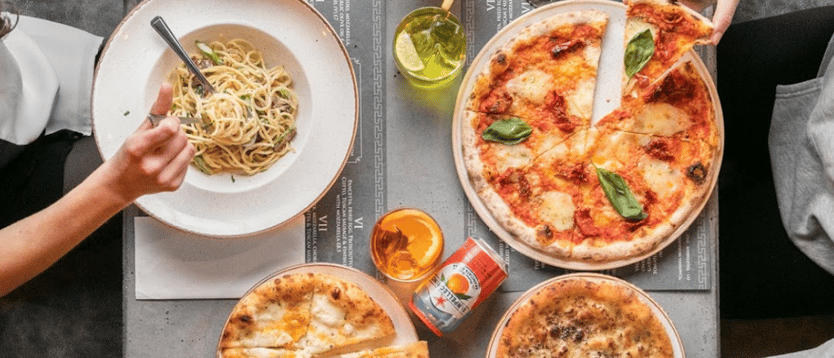 Pizza's are great for casual team lunches, office celebrations or even the occasional business meeting with your year-long clients. Sign deals or sing Happy Birthday over pizza, pesto and pancetta.
Whether you're feeling classic or extravagant, you'll find your new favourite pizza here! Tomatoes, mozzarella, drizzled with garlic olive oil or smashed beef burger topped with mac and cheese and sliced gherkin - yes, please.
---
Revolucion de Cuba

Revolucion de Cuba is a lively cocktail bar with delicious food. If your excitement is getting the best of you and you can't wait for happy hour, order their burrito's, cuban sandwiches, tapas and burgers straight to your desk.
Try the marinated chicken burrito bowl and mushroom, bean and spinach burrito bowl, you won't be disappointed! The perfect Friday lunch.
Coro The Chocolate Cafe

What's better than a restaurant dedicated to everything Chocolate? Not much. We'll wait. Everything from waffles, pancakes, fondue to crepes, cookie dough and cakes is covered in or topped and drizzled with chocolate.
From chocolate chip cookie dough with freshly whipped cream and banana to Malteser cheesecake and rich brownies - choosing one will make you feel like a kid in a candy store!
---
Want to bring Glasgow's best lunches into your office?
At Just Eat for Business, we do food at work the right way. That means we deliver some of the best Glasgow restaurants and beyond to your workplace.
So if you're ready to swap office food for good food, hit the button below to see what Just Eat for Business can do for you.