September 10, 2021 • Food •

3 min read
Discover the best sourdough bread in London
These are the bakeries which rise to the occasion. Discover the Just Eat for Business guide to the best sourdough in London.
Over the last year and a half, thousands of people have tried their hand at baking bread. Talk of how to create the perfect sourdough starter was on almost everyone's lips, and creations were proudly shared across social media.
Sometimes, though, there's nothing better than a warm loaf, carefully wrapped in a brown paper bag, straight from your local bakery. Plus, the importance of supporting local businesses has never been higher. Environmentally and financially, we know that supporting your local cafe, bakery or restaurant makes sense when it comes to strengthening the economy and minimising food miles. But supporting local businesses is also a great way to build a stronger, more cohesive and welcoming community.
Now that bakeries, cafes and restaurants are reopening, we've compiled the Just Eat for Business guide to the best sourdough in London - check it out!
---
Margot Bakery
121 E End Rd, London N2 0SZ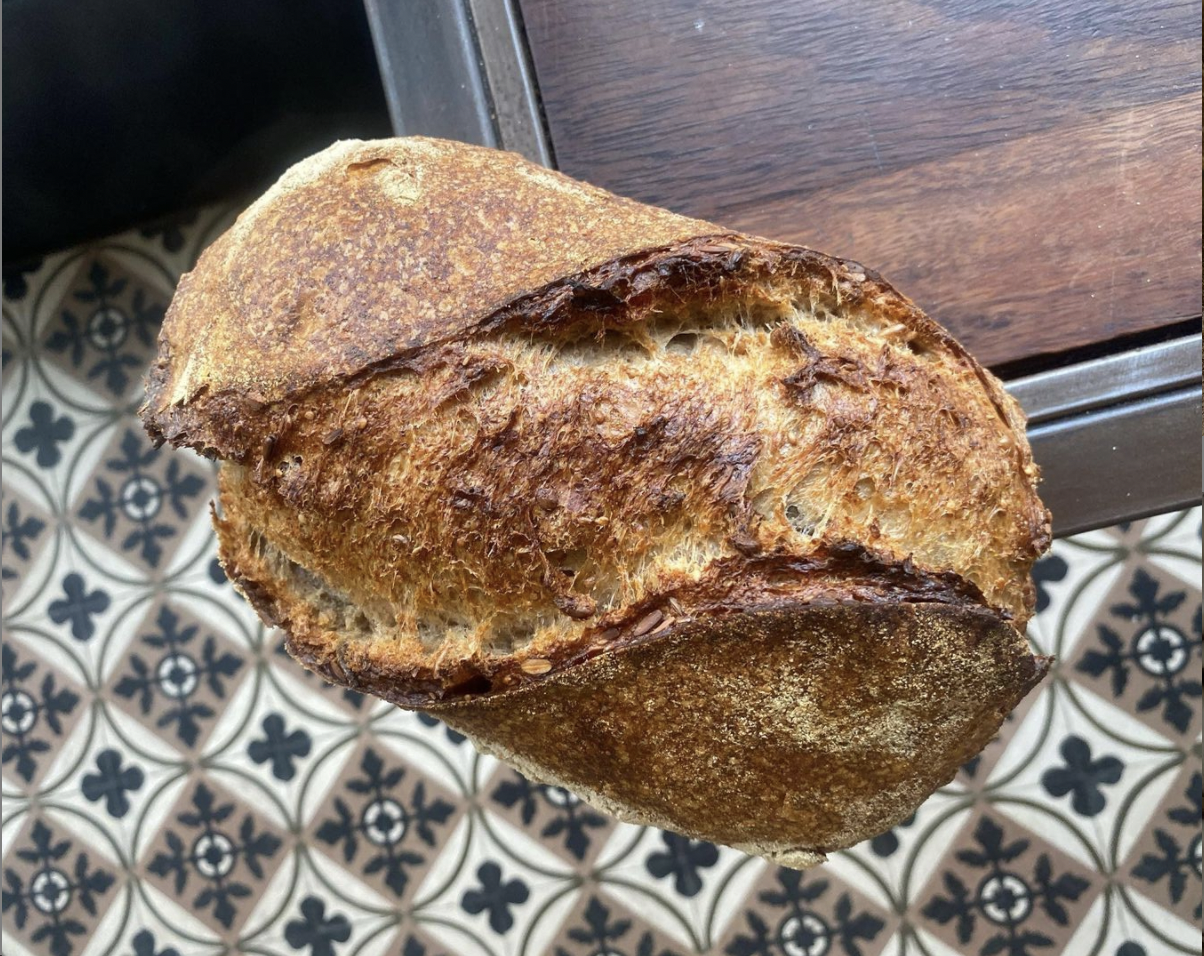 Nestled away in North London, Margot Bakery is cosy and ever so welcoming. Not only does it specialise in sourdough bread, but baker and owner Michelle Eshkeri laces her fermented dough into challah bread, babka and even cinnamon buns. Michelle also has her own book out; Modern Sourdough: Sweet and Savoury Recipes from Margot Bakery, so you can try baking some Margot classics in the comfort of your home. If you're in and around N2, be sure to pay a visit - but a word of warning: Pre-ordering is recommended, as Margot is wildly popular!
---
Little Bread Pedlar
34 Moreton St, London, SW1V 2PD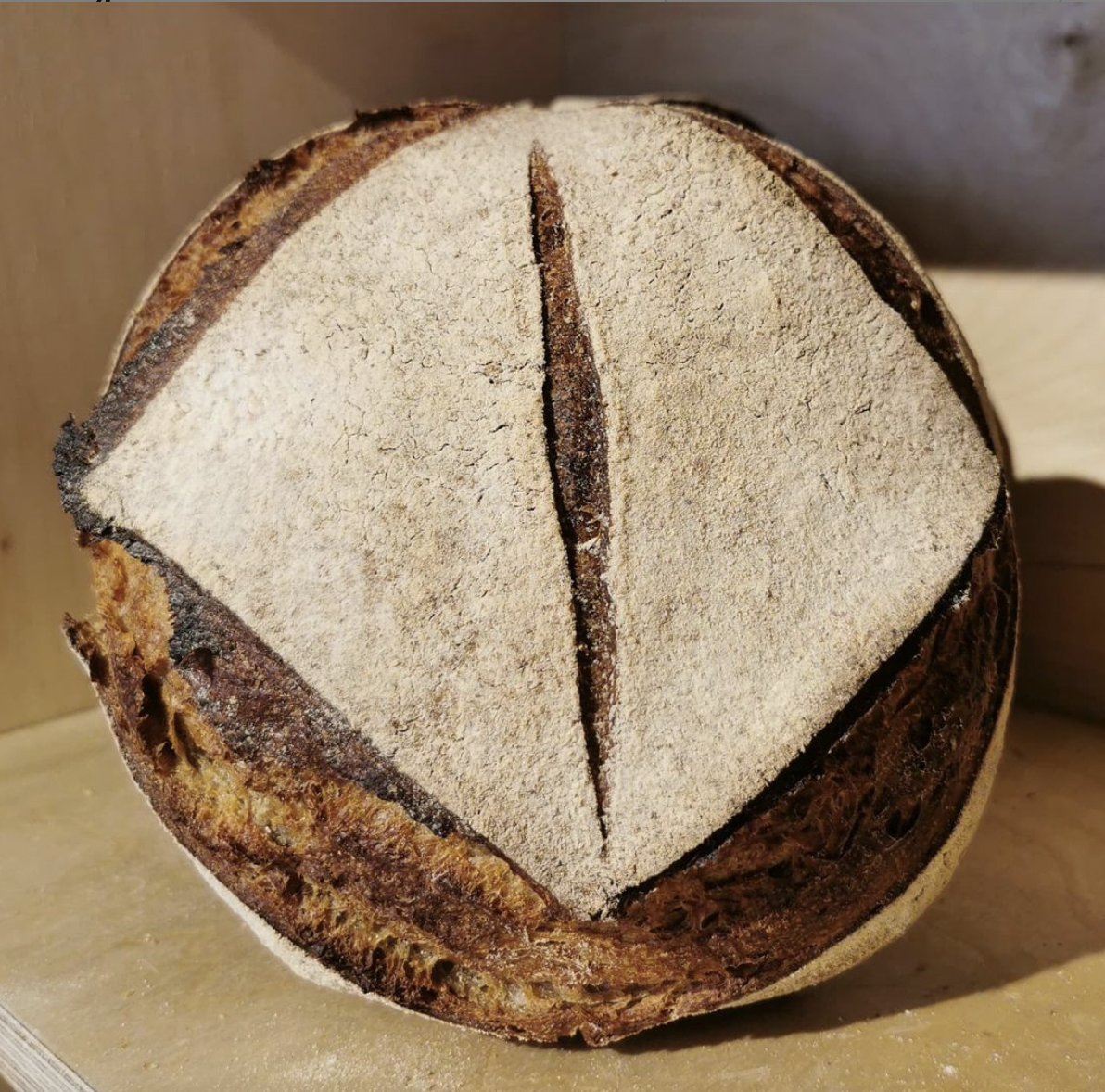 Little Bread Pedlar (often fondly referred to as LBP) is famed for its chewy sourdough, with a tangy centre and wonderfully deep caramelised crust. With several pop-up stalls in markets across London, you don't have to travel far to enjoy LBP's range of breads and pastries. Founded in 2010 by Nichola Gensler and Martin Hardiman, LBP is also home to buttery kouign amann and fragrant almond croissants which are sure to satisfy any sweet tooth. Fun fact: Nichola and Martin actually met at a roller disco party!
---
October 26 Bakery
153 Askew Rd, London W12 9AU
October 26 Bakery is small but mighty. Based in West London, this incredible one-woman operation was founded by Raluca Mica in 2015. She promises that her loaves are made with a whole lot of love, and when you taste the bread, you can tell that's true.
Although there's currently a reduced menu, Raluca hopes to bring back her sweet treats and wider range of breads soon. But don't panic - the West End Sour loaf is still available, and it's baked with organic flour from Shipton Mill. Plus, chances are if you head over to the shop, you'll get to see the real live bread making process, and leave with a loaf hot from the oven.
---
The Dusty Knuckle
Abbot St, London E8 3DP
The Dusty Knuckle has gone from strength to strength in recent years. Not only has it solidified its reputation as one of the best artisan bakeries in London, it's opened a second site in Haringey and continues to support young offenders to help them become financially independent and contribute to society! And if that wasn't enough, they produce some of the best sourdough bread we've ever tasted. A tried-and-tested Just Eat for Business favourite!
---
Fortitude Bakehouse
35 Colonnade, London WC1N 1JA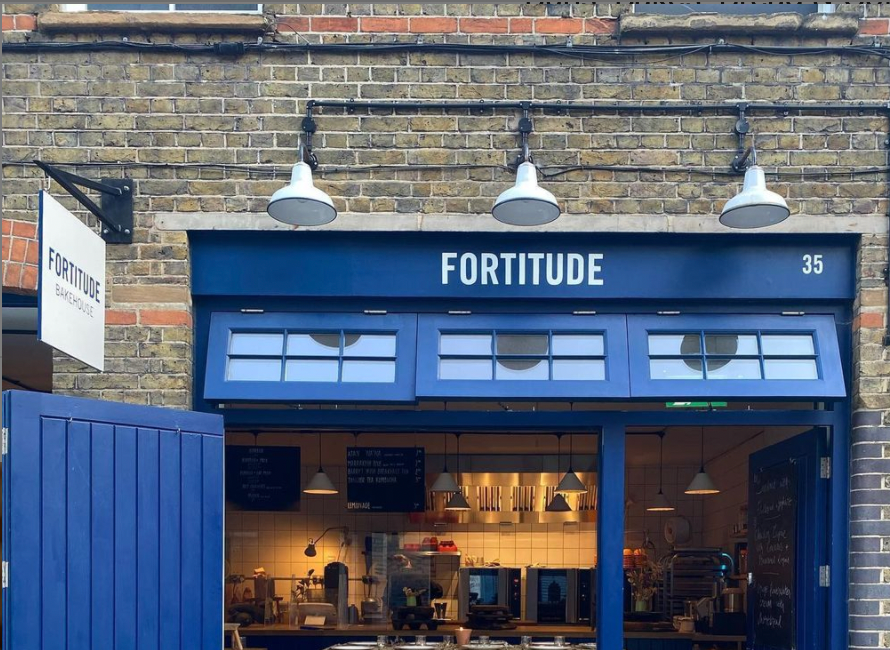 Whichever sourdough-based treat you're in the mood for, Fortitude is bound to satisfy. As well as serving single-farm coffee and Stonerolled tea, their range of baked goods is what makes them an industry great. Their sourdough loaves are made with the perfect amount of chewiness, their pastries are light and delicate and even their cakes are made with sourdough (not to mention very generously portioned!). We'd be crazy not to shout about Fortitude's sticky buns, too. From pecan and maple to chocolate and molasses, they are a wonderful addition to your slow weekend morning.
---
Pavilion Bakery
18 Broadway Market, London E8 4QJ
Pavilion Bakery prides itself on sourcing seasonal, local and organic produce wherever possible. Founded in 2007, Pavilion has grown from its original location in Victoria Park to having three more bakeries in ​​Broadway Market, Columbia Road and Regent Studios, and they've even set up shop in Newquay, Cornwall! Their moreish sourdough pairs perfectly with smashed avocado, and the giant almond and chocolate croissant is a must-try. Go find your nearest Pavilion and enjoy!
---
E5 Bakehouse
Arch 396 Mentmore Terrace, London E8 3PH
If you're a Hackney local (and even if you're not) you've likely heard of E5 Bakehouse. Revered by bakers across London, all of E5's bread (aside from their baguettes) is made with time, love, and 100% sourdough starters (though we're sure the baguettes are made with love too!). The Hackney Wild is their standout bread, but they've also got a huge selection of loaves on offer from a seeded rye (stunning topped with smoked salmon) to a Gilchester bun. If something sweet is more your thing, treats range from classic Bakewell tarts to Scandi-inspired cinnamon buns, as well as much-loved croissants and brownies. If you find yourself in London Fields, head to E5 Bakehouse - you won't be disappointed.
---
Looking for more than just sourdough for your next team breakfast, lunch or dinner? Well, at Just Eat for Business, we take care of all your London office catering needs. Just start here.