February 16, 2021 • Food •

5 min read
International Women's Day: Dinner Ladies
As part of our International Women's Day series, we caught up with Lily Cai and Emily Plunket, co-owners of Dinner Ladies, to find out more about their business, as well as their experiences of being female founders in the food and drinks industry.
During February, we're taking the opportunity to highlight some of our amazing women-owned vendors in the run-up to International Women's Day on Monday, 8th March. We're chatting with the women who own, run, and founded the brilliant food businesses you get to order from through Just Eat for Business.
Today, we're spending some time (virtually) with Lily Cai and Emily Plunket, co-founders of Dinner Ladies, an event catering company that is best known for its exceptional quality of service, attention to detail, professionalism, and, of course, personality.
---
Tell us a little bit about Dinner Ladies.
Dinner Ladies is an award-winning food and events company founded in 2015 by two best friends. Since 2015 we have been creating dynamic and different food for London's best events and creating exciting and unique supper clubs.
Have you always worked in the food and drinks industry?
We have not always worked in the industry but have always had a strong passion for food. We lived together in China where we were both English teachers, and working in PR and Art!
How has COVID-19 affected your business?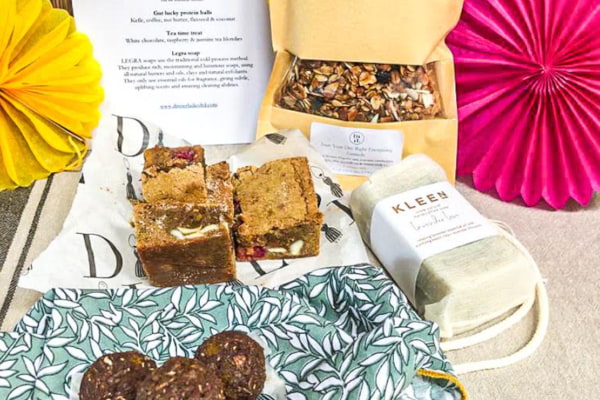 We have totally transformed our business during COVID-19. We are now a stylish delivery service and bring our weekly changing menus to our clients' doors. We are posting our food nationwide and putting on dynamic virtual masterclasses!
What have your experiences been like as female business owners in this industry?
The food industry as a whole has been male-dominated but it is refreshing and exciting to see so many female-led businesses in our field evolve and take over! Our business is packed with strong female leaders and we thrive on this.
Why is it important to celebrate International Women's Day?
It is important for women to come together to build a community to support and help one another every day of the year!
What advice would you give to women who want to start a career in the food and drinks industry or set up their own business?
GO FOR IT! Be open to working hard, new experiences and remain persistent and optimistic.
---
If you'd like to support Dinner Ladies, check out their at-home menu that your remote teams are bound to love! They're even offering a special International Women's Day hamper that aims to boost morale and spread some joy. A balance of tasty snacks and wellness gifts, the pack includes something for the whole day!