February 5, 2020 • Food •

3 min read
Best Pancakes in London Delivered by | Just Eat for Business
For a breakfast really worth getting out of bed for, discover our favourite pancake spots in London that you can get delivered direct to your desk with Just Eat for Business. They do say to eat breakfast like a king, after all...
No matter if it's Shrove Tuesday, brunch with the squad or just any regular morning tbh, who doesn't love pancakes?
Whether you're team sweet or team savoury, an American-style advocate or crêpe-connoisseur, London's breakfast scene is stacked with winning pancake-professionals.
Celebrate Shrove Tuesday (or any Tuesday...) in style with Just Eat for Business. Check out our expert pancakes-picks from all over London, below, and host exciting pop-ups for live pancake tossing or drool-worthy buffets in your office pronto. You're welcome.
---
The Breakfast Company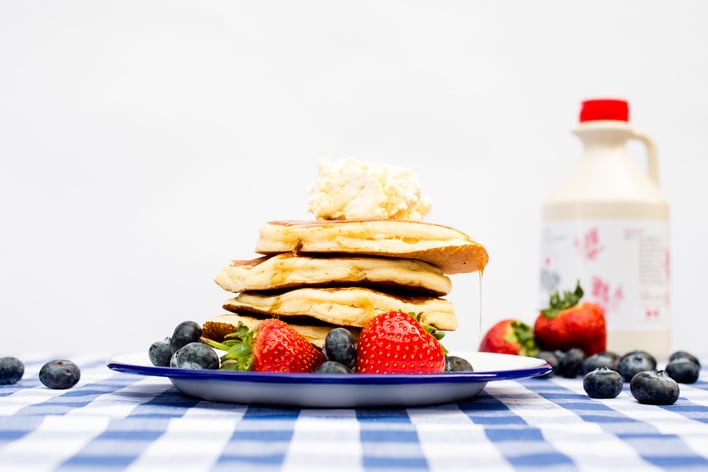 You can trust that The Breakfast Company know what they're doing when it comes to brilliant breakfasts, and their incredibly fluffy buttermilk pancakes are perfect for beating the commuter blues. What's more, they even do a vegan version, so now no one has to miss out!
Served the American way with fresh whipped cream, chopped berries and 100% Canadian maple syrup, they might just be the best tasting and most drool-worthy pancakes in London. Come on, just look at them!
---
Crêpeaffaire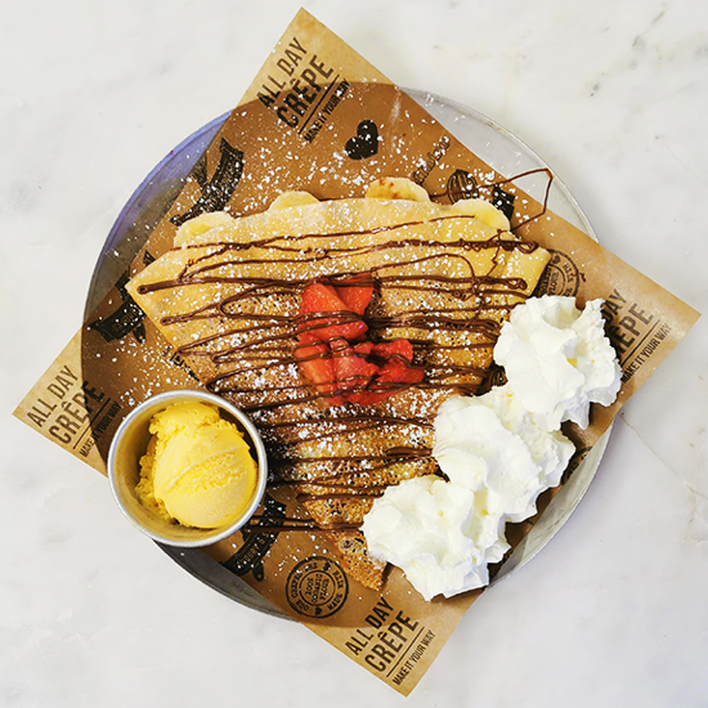 Unsurprisingly, Crêpeaffaire know a thing or two about flippin' good pancakes. Whether you have a sweet tooth or fancy something savoury, you won't be disappointed with Crêpeaffaire's vast menu (including no-gluten options, winning!).
From eggs Benedict to smoked salmon with cream cheese, channel your favourite brunch flavours in crêpe form with their winning savoury breakfast-inspired menu. For something sweet, try cinnamon, banana and butterscotch or classic Belgian chocolate. Drool! With our Individual Choice option at Just Eat for Business, each member of your team can choose exactly what they want and we'll get it delivered to your door!
---
Cafe Route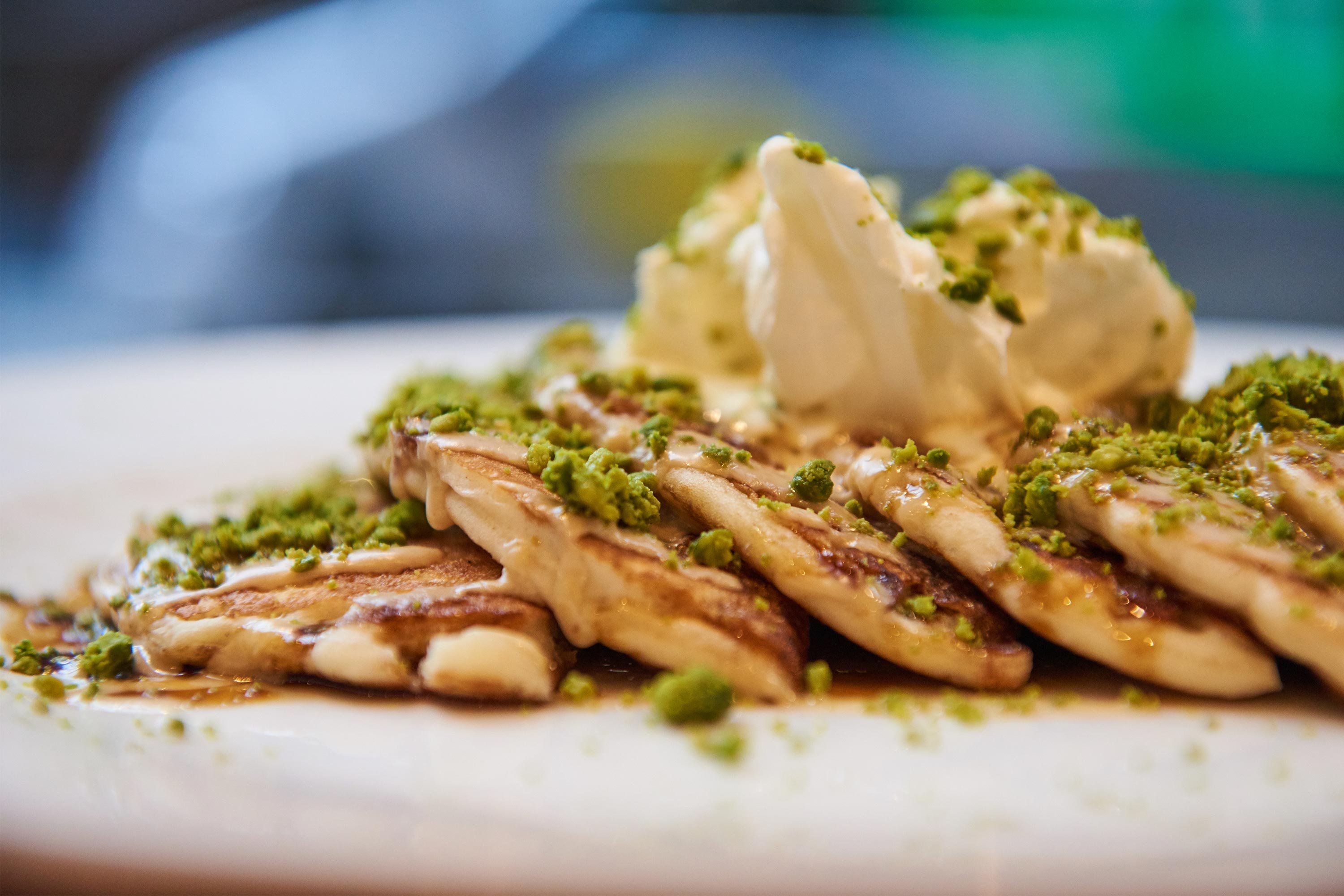 You don't have to wait until Shrove Tuesday to get your pancake fix - Dalston's Cafe Route serve their Middle Eastern-inspired pancakes all year long.
Yes, you read that right. Cafe Route specialise in hearty Middle Eastern cuisine, so forget lemon and sugar this year and go rogue with buttermilk pancakes topped with tahini, pekmez, clotted cream and crunchy pistachios. Trust us, they're a game changer.
---
The Detox Kitchen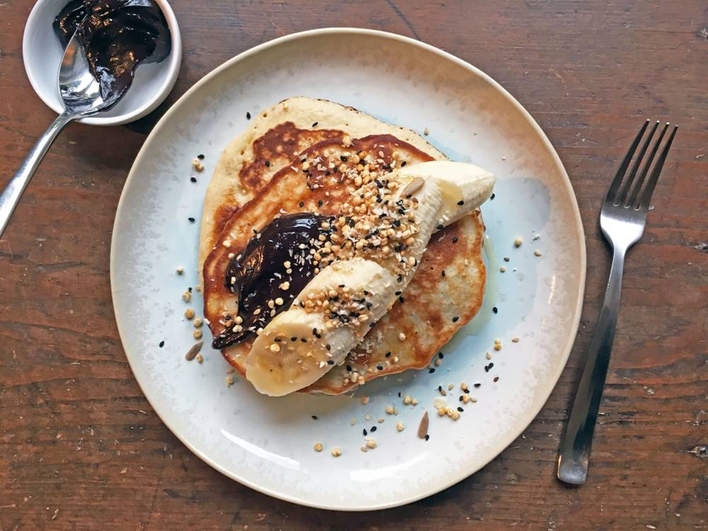 Channel your inner Jack Johnson and pretend like it's the weekend with The Detox Kitchen's delicious banana pancake pop-up, serving up fluffy pancakes right in the office.
There's so many tasty toppings to choose from! Try almond butter and berry compote, pomegranate and coconut yogurt or keep it classic with maple syrup. Office breakfasts don't get much better than this – and, what's more, they're healthy(ish), too!
---
Platter Up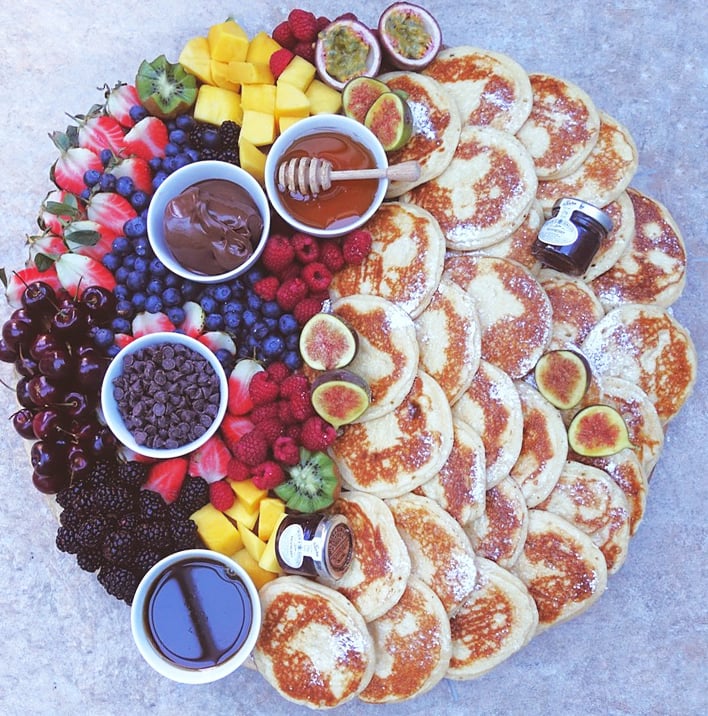 Doing what they do best, Platter Up's ultimate Pancake Day feast is total buffet goals and this beautiful spread is the perfect way to entice your team to that morning meeting everyone's dreading.
It's stacked with fluffy pancakes, syrups, honey, chocolate chips, spreads and a whole rainbow of fresh fruit to make your team's dreams come true with this Insta-worthy breakfast. We'll deliver it straight to your office in time – all you have to do is grab the plates (and pick the Instagram filter, of course!)
---
Desperate to bring some pancakes into your office now?
Whether you're after classic lemon and sugar or something a little more indulgent, Just Eat for Business have got you covered this Pancake Day. We even offer pancake pop-ups where the restaurant bring a flippin' good time to your office – so you can get your team bonding over toppings.
And remember, we offer free delivery on your first order with us. Interested? Take a look at the pancake restaurants in your area and get ordering!
We also offer loads of other tasty options for all your corporate catering London needs!