September 22, 2020 • News •

5 min read
Sustainable deliveries - reducing carbon emissions
We are continually looking into ways to reduce our carbon emissions, so have a read about our latest initiative to make Just Eat for Business a more eco-friendly service for all.
Just Eat for Business is committed to making our services greener, and that means finding ways to reduce our carbon emissions. Fortunately, our team of passionate employees have been working hard to make that happen, and our latest delivery initiative will help Just Eat for Business save up to half a ton of C02e every week!

Prior to these carbon-saving changes, which we'll explain shortly, we used to transport food to offices using reusable thermoboxes. These boxes kept food warm in transit, but they had to be returned to the restaurant once the food had been delivered. These necessary return journeys created unnecessary carbon emissions.
So we decided to do things differently.

On September 22nd 2020, we launched our new recyclable cardboard delivery boxes, eliminating the need for return journeys. These new boxes are made from recycled materials and are intended to be used for a single order. The customer can then choose the reuse the boxes however they like and recycle them at the end of their life.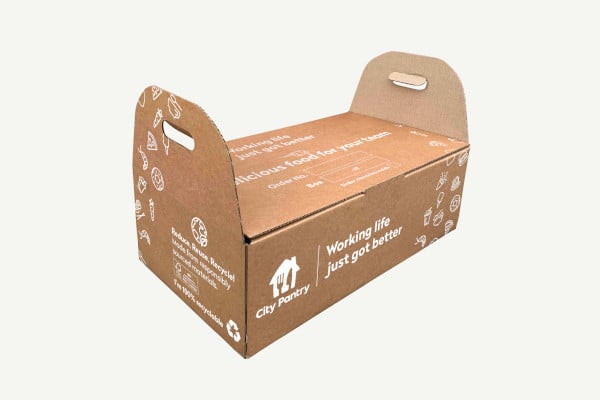 This change will result in up to 850 fewer driver hours and savings of up to half a ton of C02e every week. That's the equivalent of a plane in flight for two hours!

The new delivery boxes aren't just good for the environment; they're also great for customer experience. For a start, our testing showed that they keep food as toasty warm as the original thermoboxes did for a period of two hours, and they help keep the food delivery process as hygienic as possible.

Once the restaurant packs the food into the delivery boxes the lid remains closed shut until the office manager opens it back up again. This reduces external interaction with food during delivery.

Delivering food on time, everytime is what we strive for, and our new delivery boxes will help with that goal too. By simplifying and streamlining logistics, drivers can immediately focus on their next order instead of having to return thermoboxes to the restaurant after food delivery.

We believe that our new delivery boxes are a step in the right direction, as we continue to make Just Eat for Business a more sustainable service for our drivers, vendor partners, and customers alike.
---
If you'd like to keep up-to-date with our sustainability efforts, please visit our Corporate Social Responsibility page.