October 5, 2020 • Food •

5 min read
Celebrating black-owned businesses: Mama's Jerk
This October, we're celebrating some incredible black-owned food businesses, and to start things off we caught up with Adrian from Mama's Jerk.
Last week marked the start of UK Black History Month and to celebrate the occasion we caught up with Adrian, owner of Mama's Jerk. With outlets in Hackney, Canary Wharf, Brixton, and Deptford, Adrian's restaurants bring mouth-watering new-style Caribbean street food to hungry Londoners across the capital.
---
What inspired you to open a food business?
Mama's Jerk was set up as a legacy to my great grandmother Mama Charlotte's homemade jerk seasoning recipe. Her recipe was passed down generations, which inspired me to try incorporate it into food products to sell to the general public.
Tell us a bit about the food you sell.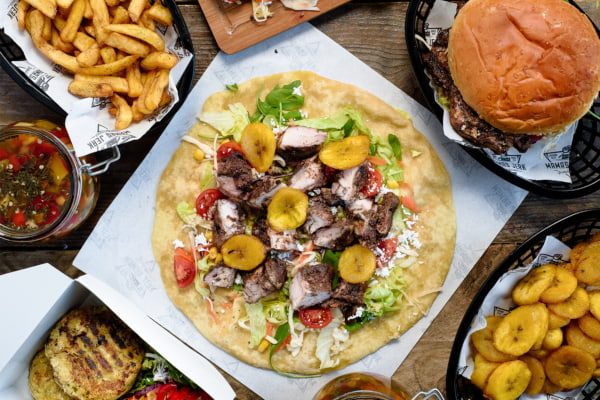 We sell authentic seasoned Jamaican Jerk Chicken, Curry Goat, Oxtail, and Jerk Spiced Vegan and Fish items. We have adapted to the current modern trends of adding jerk burgers, wraps, and healthy salads to our existing traditional dishes. We have also created a range of homemade sauce products to accompany the dishes, these are our Jerk BBQ Sauce, Mango Mayo, and Hot Pepper Pickle.
What's your favourite item on the menu?
At present, my personal favourite is our slow cooked oxtail, rice, and peas with salad and slaw.
The past six months have been a very challenging time for the hospitality sector. How did you adapt as a business?
We have had to adapt by reducing some of the menu items to simplify our offering. Unfortunately, this has resulted in a few staff redundancies. It has forced us to try to obtain external revenue streams via ordering ready-made meals online and focusing on delivery platforms to increase revenue. We are fortunate to have understanding landlords who are assisting us with trying to get through this crisis.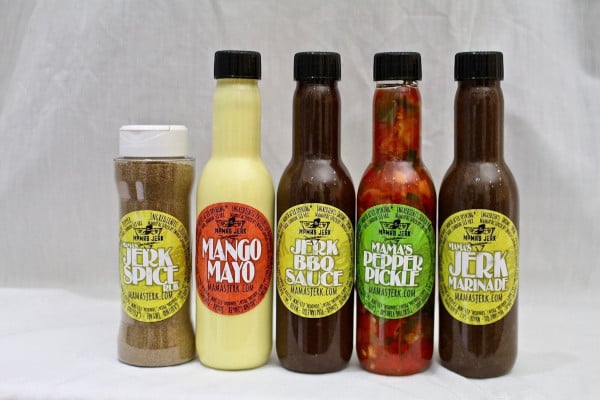 As a black business owner, what have your experiences of being in the food industry been like?
If I'm being honest, my experiences as a black business owner have been very positive in the food industry. Obtaining commercial property, building relationships with suppliers to grow a reputable brand has been predominantly good. It's made me very resilient to the everyday challenges of operating a food business, especially in this current climate.
The business has also taken me to areas and locations in the UK I probably would never have been to with the event catering side of the brand, such as catering for the Houses of Parliament, US Embassy, Amazon HQ etc. As well as working with established brands such as Nike, Converse, Red Bull, The BBC, ITV, and Channel 4, to name a few.
Black History Month is a time of celebration and reflection. How will you be celebrating this year?
Black History Month is an important time of year for me and my team to celebrate our culture and contributions to society that Black & Ethnic minorities have done in the UK. We will be celebrating it by highlighting other black businesses and business owners achievements.
---
In the office and hungry for a Caribbean-inspired feast? You're in luck! We're delivering delicious meals from Mama's Jerk to offices around London! Click the button below to see what's on the menu.