June 29, 2021 • Food •

5 min read
Choosing your next team lunch is easy with our Top Picks
At Just Eat for Business, we have over 600 restaurants and caterers to choose from. And while choice is a great thing, it can be overwhelming. So, that's why we highlight our Top Picks when you search for food.
Have you ever struggled to pick a restaurant to order your team lunch, breakfast or meeting food from? We've all been there. Especially at Just Eat for Business where we have over 600 of the UK's best restaurants and caterers at our fingertips. There's a world of delicious food to devour, so choosing just one or two restaurants can be overwhelming. But luckily, we have our Top Picks to help you reach that decision. And today, we're going to tell you exactly how to use them to make office food delivery even simpler.
What are 'Top Picks'?
Our Top Picks are a curated selection of our favourite restaurants and caterers, carefully hand-picked by our Account Management team. Filtering your menu search results by our Top Picks makes your life easier as you can rest assured that you're ordering from the best of the best.
How do we choose our Top Picks?
Our dedicated team of Account Managers choose our Top Picks based on the feedback we've received from other customers who've loved their meals. And, of course, they factor in their own personal experiences of ordering tasty meals to the Just Eat for Business office, too! What's more, they review and update our Top Picks every single month, because we want to give you the most up-to-date recommendations. So, you know you're in good hands.
In a nutshell, our Top Picks are super reliable, super tasty, and your teams are bound to adore them.
How to use Top Picks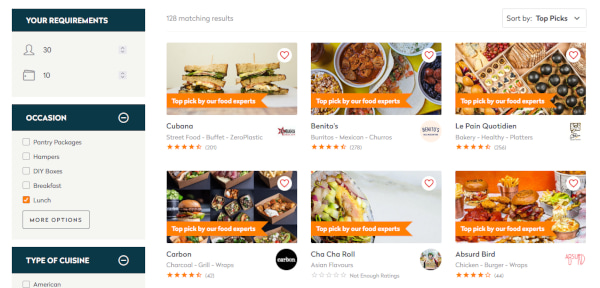 Our Account Mangers are on hand to help you have the best possible experience with Just Eat for Business, but sometimes you need answers instantly. That's where our Top Picks feature comes in handy. Whenever you need a restaurant recommendation for your next office lunch, breakfast or meeting, simply search for food in your area and use any of the filters on the left-hand side of the page that you require - e.g. headcount, budget, occasion, cusine type and dietary needs. Then, sort your results by Top Picks using the drop-down menu in the top right. It's that simple.
Using our Top Picks feature makes ordering for your office teams hassle-free - and best of all, you can feel confident in your choice. Because we know it'll be delicious.
---
So, what are you waiting for? Get your next team lunch sorted the easy way with our Top Picks.