Celebrating women in business - Introducing Humble Crumble
For the whole month of March, we're cheering on all the incredible women we work with in celebration of International Women's Day this month. Next up: Humble Crumble
Humble Crumble has quickly become a favourite amongst London's street food fanatics. First dabbling into making crumbles as a teenager for her family's Sunday roast to starting the business, their crumbles are now loved by many. We spoke to founder Kim on her motivations to start Humble Crumble and her experiences with discrimination as a woman in the food industry.
What's your background and career path up until this point and what do you do now?
I've been an amateur baker since I was a teenager - crumble was actually the first thing I ever made. My family loved it so much that they asked me to make a crumble for each Sunday roast, so I've had well over a decade's experience in making crumbles. But my career has been quite non-food related. While at university I set up a tutoring agency, so I ran a service based business which is completely different to running Humble Crumble. Once I finished university in 2016, I wanted to start Humble Crumble but I also wanted a little bit of experience so I worked as a restaurant manager in France for six months and then in a marketing role for a supper-club start up in London for a year.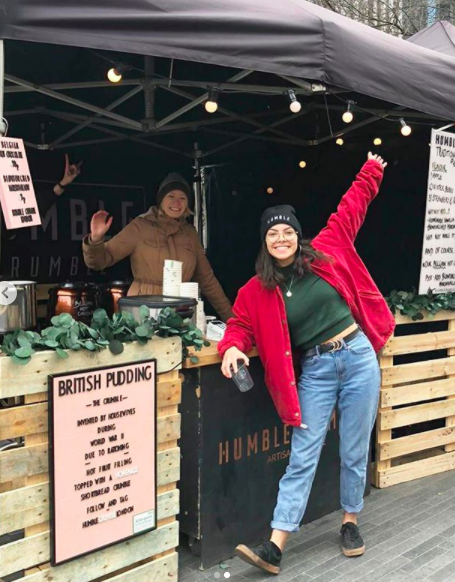 What first interested you in the food industry?
I'm such a foodie it's unreal. But most importantly, I love cooking for people and constantly seek to improve dishes until they're perfect. I think this is what I love most about the street food scene, you can have a niche; do one thing and do it really well. I will say though that I never considered starting a food business until I thought of Humble Crumble. It's strange but it feels almost like my life has lead me to this because of how often I made crumbles growing up. It was only when I was at university and saw a gelato shop do really well in the summer but not so well in the winter that the idea struck. I was thinking 'What could they do in the winter - what's the opposite of ice cream'? And because I'd made crumbles every week for the past decade, the idea came to me.
Have you ever felt discriminated against or been encouraged as a woman in catering?
The food industry is a very male scene (as is entrepreneurship) and some discrimination is so unconscious and frequent that it's barely noticeable anymore. I think my age and gender has led people to underestimate me, but surprisingly the most outward form of discrimination I've had while running HC is from another woman. I was renting a kitchen and one woman who worked there would treat the men like kings and me like a second-class citizen. The other women in the kitchen agreed that she was inherently sexist and would treat us so badly so frequently, that we ended up leaving the kitchen. This experience, thankfully, has been the exception and not the rule; I've found so much support and encouragement from women in the catering industry and I absolutely love that. I think we really stick together and it's great that we hold each other up.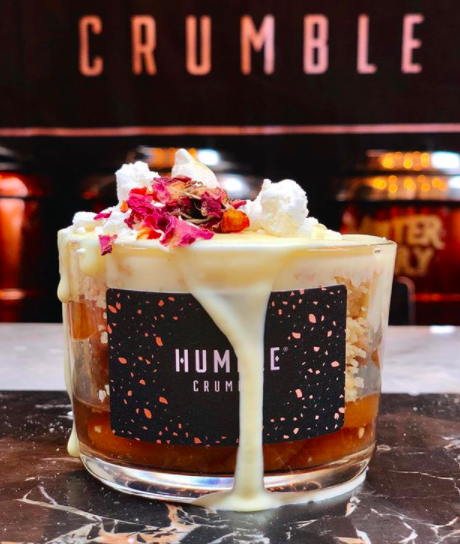 What would your advice be to a woman looking to start a career in the sector?
Women have a tendency to second guess themselves and their worth. If you feel passionately about food and the industry itself, then stand up for what you believe in. And not to steal this common phrase, but work hard and be nice to people. There will be men (and some women) who will be sexist towards you and it's down to you to either stay in that situation and stand up for yourself or have the courage to say that this space isn't for you and move on to bigger, brighter and non-sexist situations.