November 22, 2019 • Food •

5 min read
Warm and Comfort Foods for Winter
Bundle up! It's almost December! To keep you warm, we curated lots of cold-weather food options to brighten and warm up your day.
The end of November is quickly approaching and with that comes Christmas time, frosty mornings and lots of delicious food. Salads are great, but do they really hit the spot on a cold winter day?
Instead, choose tasty soul food, stews, chillis, soup, pies and mac and cheese from our many restaurants dedicated to make your team lunch a hit!
---
Stews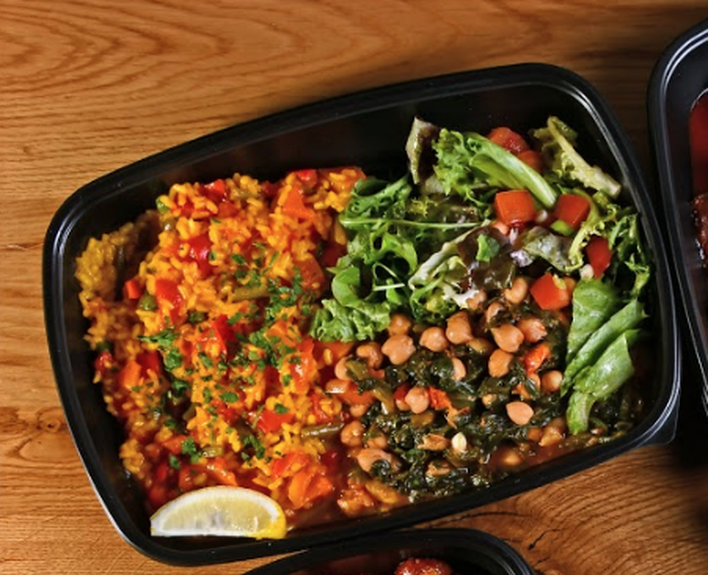 When thinking of cold-weather foods, stews are top of mind. Quick and easy to prepare, they are a good choice for weeknight dinners. Let us make it even easier - delivering straight to your door. Delicious stews with hearty ingredients that leave you warm and satisfied until dinner time.
Try Maroush's aubergine stew served with vermicelli rice and Las Banderas' chickpeas and spinach stew with vegetable paella!
---
Chilli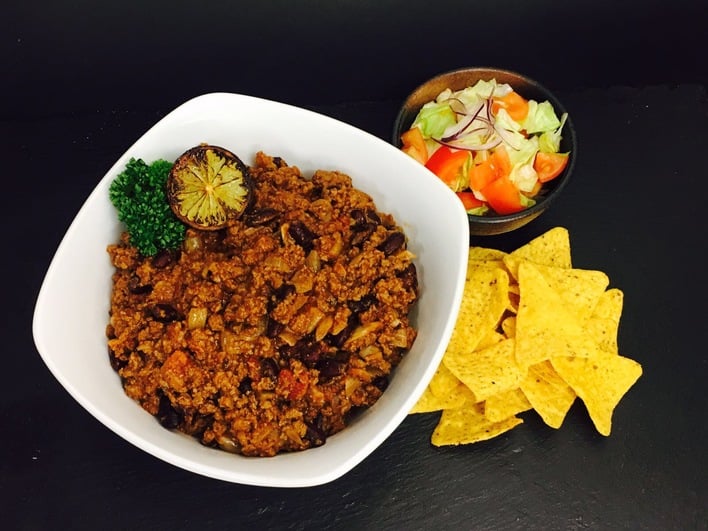 Chilli con carne is a surefire way to warm you up. Jackie Filmer nails the traditional chilli with a choice of beef or vegetables and mixed beans, while Chop'd add a unique spin to their dish: chocolate! Try their chocolate chilli con carne with slow cooked beef chilli mince with cacao and smoked chipotle - you'll be converted, trust us!
---
Soups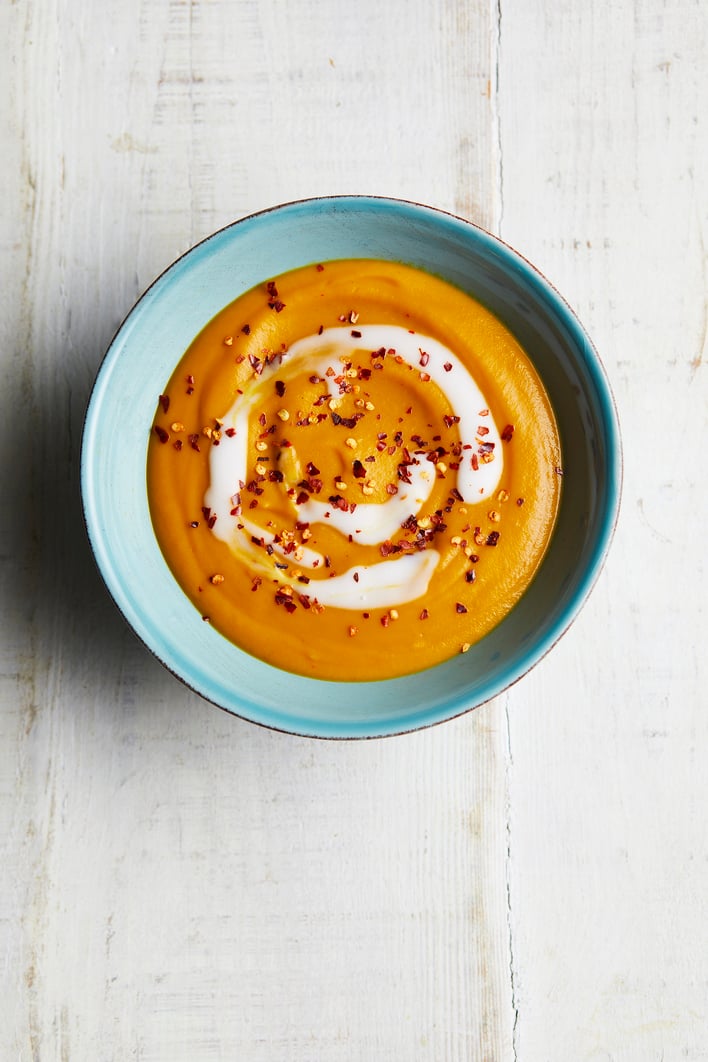 Cold-weather foods don't get more classic than soups! Just Eat for Business offers lots of soups from all kinds of cuisines, so have your pick!
Farmstand offers classic and healthy soups, like squash and sweet potato with cumin, chilli and coconut milk and a broccoli pea and miso soup with garlic and ginger. The Little Cooking Pot ticks off two items on the comfort-food list by combining an italian or indian soup with an open sandwich. If you're craving Asian, try Oie Thai's rice noodle soup with beansprout and king prawn.
---
Pies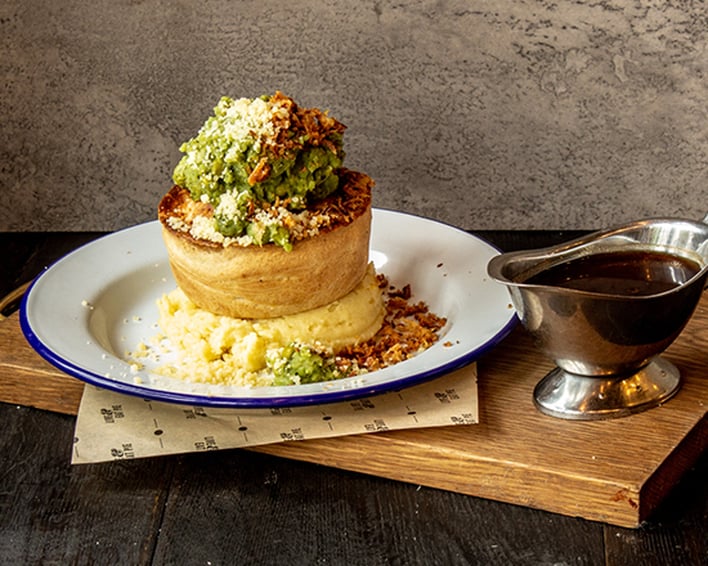 It doesn't have to be Sunday for you to enjoy a good pie. Delicious options from Piebury Corner include an ox cheek and venison pie, lamb and mint pie and potato cheese onion garlic pie.
Pieminster offer a classic pie with creamy mash, minty mushy peas, cheese and gravy, or mushroom, tomato and red wine. Holmesbake's roasted vegetable pie, spinach and ricotta pie or chicken and leek pie make it hard to choose.
---
Mac and Cheese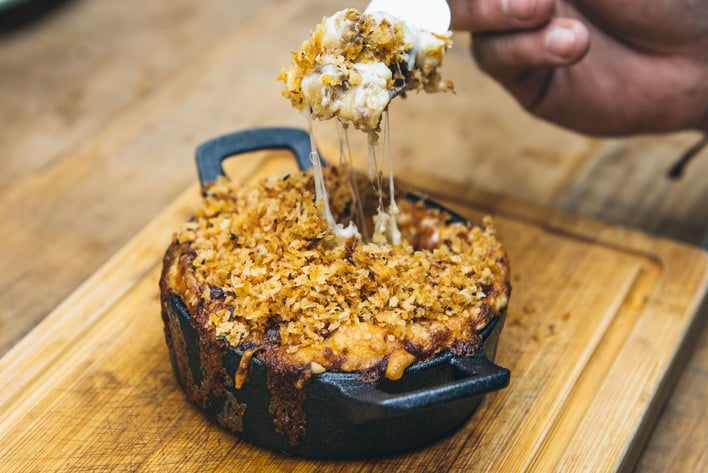 Mac and Cheese is our American favourite. Whether you like it traditional or unique, we've got both! Want your own mac and cheese pop-up in the office? Order from Mac To The Future or Jackalope's All American.
Creamy macaroni and cheese made with cheddar, parmesan, camembert and truffle oil, topped with roast meats and cheerful winter flavours. Jackalope's pop-up comes with a toppings bar so you can sprinkle your choice of jalapenos, gherkins, crispy fried onions, chilli flakes, fresh coriander or chives on top!
Ever tried Haggis Mac and Cheese? Now is your chance! Mac and Wild make their gooey mac and cheese with tarragon, mustard, parmesan and haggis.
---
Looking for more cold-weather comfort foods to warm up the office?
Get in touch with our Food Gurus to help turn your vision into a reality. Or, if you're ready to go right now, have a look at our menu and take matters into your own hands.