November 22, 2019 • News •

3 min read
The one workplace benefit most employers overlook
Are you ignoring one of the most effective and impactful work benefit at your disposal? Read on to find out, brought to you by the Just Eat for Business team...
If you ask employers what one of their biggest challenges is when it comes to building a strong team, you'll regularly hear the same thing: finding and keeping good people.
Why is this a recurring theme?
If we look at the working population, the biggest segment is made up of the Millennial generation (born between 1981 and 1996). The growth of this workforce has meant that employee expectations have also shifted. With more focus placed on work-life balance, employers are faced with creating positive working environments to attract and retain the best talent.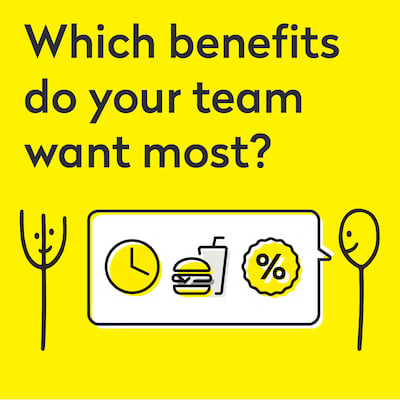 Gone are the days when employees were satisfied with a simple pay-check at the end of the month and pat-on-the-back-job-well-done. These days, companies need to stay competitive by building up their employee benefit offerings. In fact, "better workplace benefits" is among the top three reasons why Millennial workers change jobs.
But many employers may have overlooked a powerful, yet simple offering, which is at their disposal; one that could improve morale, increase productivity levels and job satisfaction as well as attract the best talent out there.
Food.
Yes, you heard us, food.
One of life's simple pleasures, but the act of sharing food has the power to bring people together.
And, according to new research, it can help play a vital role in the business world too by enhancing workplace cultures. It helps make staff feel more part of a team, and ultimately helps retain the company's most valued assets - the employees themselves.
Research from Just Eat for Business*, the leading online office catering provider, has looked at how food benefits the workplace and specifically how employees feel and respond to catering, and what company decision-makers are currently doing about it.
Mind the Gap
What the research uncovered was that employers could be missing a trick. There is a clear gap between what employees want, and what employers are actually offering.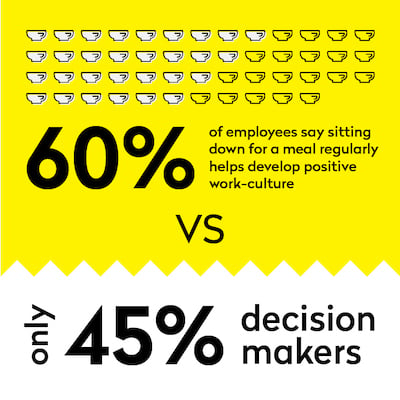 A prime example. Over half of employees say that sitting down for a meal regularly with colleagues helps to develop a positive culture. However, this number drops when it comes to opinions of the company decision-makers such as CEOs and Heads of HR.
Employees also place food as third most-valuable workplace benefit, behind flexible working and corporate discounts. After all - everybody eats!
Research also shows employees wanted food to be provided around key occasions such as birthdays or Celebration Days such as Christmas or Halloween. Important client meetings, catering for a department celebration, the odd special treat, or even subsidised food budgets, were suggested and appreciated.
And the best part is, employers need not worry about the bottom line or even tax implications for such service provision, as there are solutions to cater for all budgets.
Food can be a simple and relatively cheap benefit that delivers big on building a positive work culture.
If companies take employee morale and inclusive culture seriously, they should look further into the positive emotional, psychological and practical benefits that good food brings into the workplace.
It is certainly something employees value. Now it's up to businesses to push against the open door.
Just Eat for Business works with over 1000 companies each month across the UK, providing good food solutions that help to make a difference.
Make one of life's simple pleasures work as a useful business tool for you, get in touch with theJust Eat for Business team today.
*Just Eat for Business YouGov survey of 1000 employees and employers, 2019