July 7, 2021 • Food •

5 min read
Food delivery vs staff canteen | Just Eat for Business
With the UK COVID-19 restrictions coming to an end on 19th July, you might be wondering how best to provide food for your employees when they return to the office. Today, our Director of Operations Mike tells us about the advantages of using a delivered-in model over staff canteens.
With the government's recent announcement that all COVID-19 restrictions will be lifted on 19th July, you're probably planning to reopen your office soon after. And one big question we've been hearing people ask is: 'how do we safely provide food for our employees back at the office?'. There are a few options available but staff canteens and food delivery platforms are two of the main methods. So today I'm going to talk a bit about the benefits of delivered-in food vs more traditional office catering methods.
First things first, social distancing. We've all grown accustomed to keeping our distance over the past year and a bit and while social distancing rules are soon to be scrapped, some employers may still want to encourage it. With traditional canteen set-ups this can be hard. The lunchtime queues alone mean that social distancing becomes very tricky. But with a food delivery platform, like Just Eat for Business, your teams can skip the queues and have their individually packaged lunches delivered to the office door - or even to their desks if you've got a super nice office manager! To ensure maximum safety, we're still offering contact-free delivery too.
Another huge advantage of delivered-in meals over office canteen food is variety. Here at Just Eat for Business, our team love sampling new food each and every day. Our platform connects businesses to over 600 of the UK's top restaurants and caterers, so there's always plenty to choose from. That's just not something an in-house canteen can do. From nutritious salad bowls to lavish Friday feasts, celebratory cupcakes to 'well done' brownies, with Just Eat for Business you can order a world of delicious food and cuisines to your office door. We also offer out-of-hours delivery options too, which you'll be hard-pressed to find in a traditional canteen setting.
From an environmental point of view, the delivered-in corporate catering model also makes sense. When you can order meals for the exact number of people in the office, there's far less food waste than there would be with a canteen. Your colleagues can even mark themselves as away on our platform when they're not in the office to ensure no meals get ordered and go to waste. We also have a range of vendor partners who use eco-friendly, plastic-free packaging, which is even better for the planet. You can filter your search results to find these restaurants easily.
Finally, there's the financial aspect. At Just Eat for Business, we let you set a daily budget so your employees can select their favourite meals without breaking the bank. If they want that extra side or a cheeky dessert they can pay the above-budget amount on their personal card. Then, each month we send you one consolidated invoice to pay. It's that simple. There's no doubt that a smooth budgeting and invoicing process goes a long way to keep your finance team happy! Even better, there's no big fixed costs like paying extra rent for canteen space, insurance or utilities.
Staff canteens have had their place in the corporate catering world, but the 'next normal' demands something a little different. And we believe that Just Eat for Business is exactly that.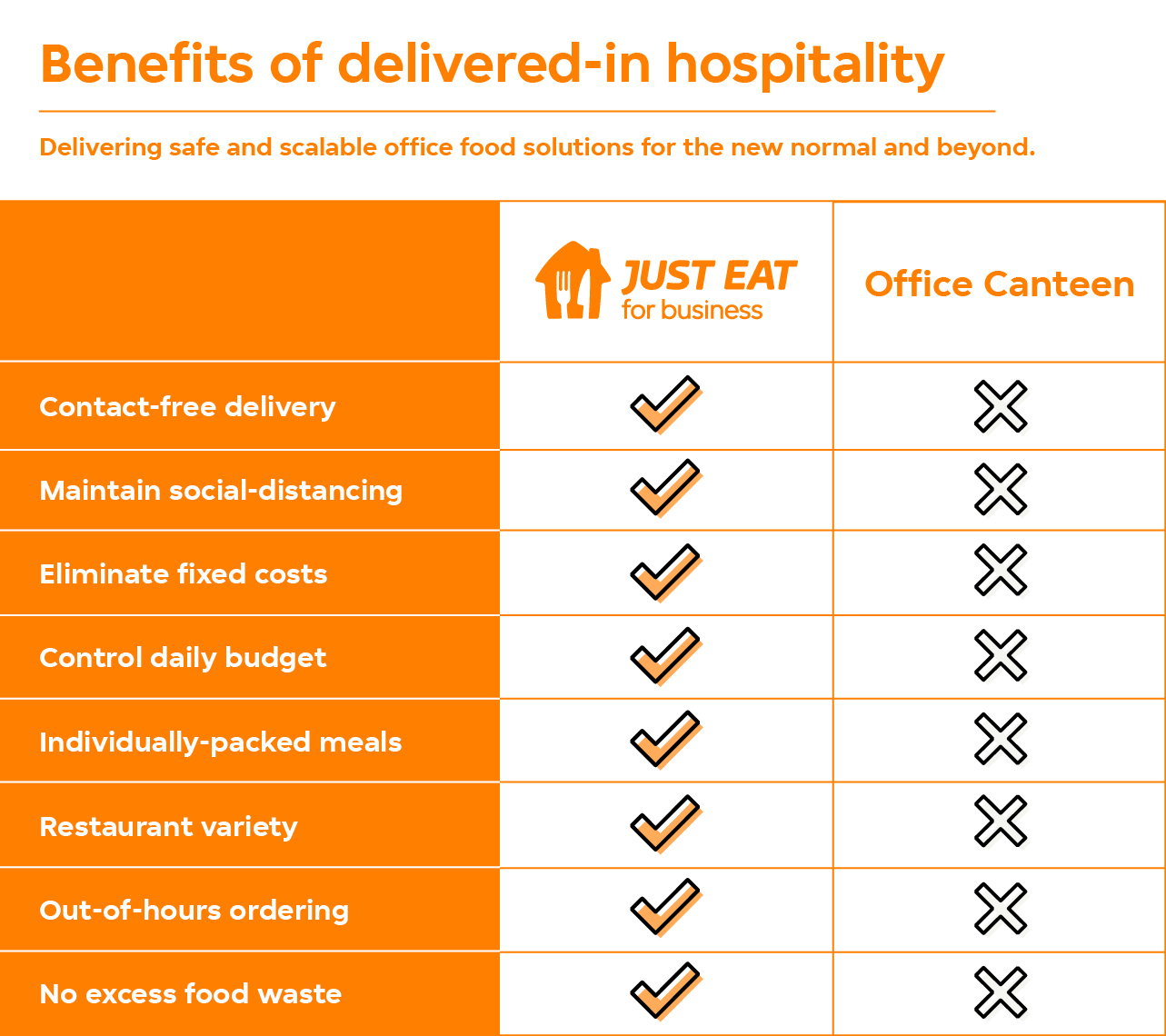 ---
If you'd like to make the most of our corporate food delivery platform, just click the button below to search for tasty food near your office!