February 7, 2020 • News •

5 min read
Veganuary - Marketing fad or real deal?
Over the last decade, the rise of veganism and plant-based diets has been impossible to miss, from #meatfreemondays to Veganuary and beyond. But just how much of this move towards mindful eating is a fad, and how much is here to stay?
At the end of every year, people across the globe take stock of their over-indulgence during the festive period and commit to making lifestyle changes to kickstart their new year. Every January we see surges in new gym memberships, people clearing bottles out of their homes and making a conscious effort to eat and cook more healthily. Emerging from this period of habit-changing resolutions has been the record numbers of sign-ups to "Veganuary", an initiative where the public are encouraged to ditch the meat and dairy, and go plant-based for the month of January.
Over the years vegan options have become cheaper, more widespread, accessible and popular (even for the everyday omnivore). Since the Veganuary movement started in 2014, the number of participants has continued to more-than double each year. As of 5 January 2020, there were 350,000 sign-ups to the official campaign. And it's likely that number was actually even higher with people participating without officially signing up. Indeed we can also track the rise in popularity of the campaign when looking at trends in searches for "Veganuary" over the last 5 years.
According to a 2019 study by Global Web Index, it's estimated that 17% of Britons are now deliberately reducing the amount of meat they consume, with 6% of UK internet users identifying as vegetarian or vegan.
So what's motivating individuals to become more flexitarian or ditch the meat all-together?
According to the same study, "improving health" is the most common reason for limiting meat from their diet with 42% of flexitarians citing this, while "animal rights and environmental" reasons are the biggest drivers for eliminating meat all together, accounting for 33% of vegans/vegetarians surveyed. When looking at the motivation for people participating in Veganuary, the top reason was for health purposes, followed closely by taking on a personal challenge, supporting the cause, animal rights and environmental reasons.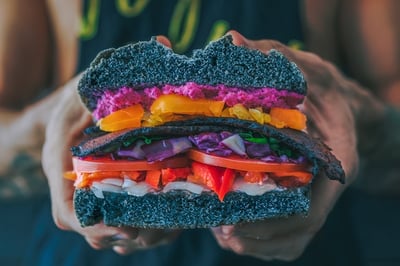 Over the last two years in particular, we've seen veganism move out of the counterculture and more into the mainstream, with supermarkets and fast-food brands expanding their plant-based offerings to appeal to this rise. We only need to look at the unprecedented success of Gregg's vegan sausage roll, the fact that even fast-food giants like Mcdonalds, Burger King and KFC have launched their own plant-based menu items and the increase in meat-free supermarket ranges.
It's not just at home - the vegan and flexitarian trends extend to people's eating habits at work. We recently looked into the ordering habits of Just Eat for Business customers over the last two years and found that not only do we see spikes in vegan orders during January, but have seen average vegan orders steadily rise over the course of each year.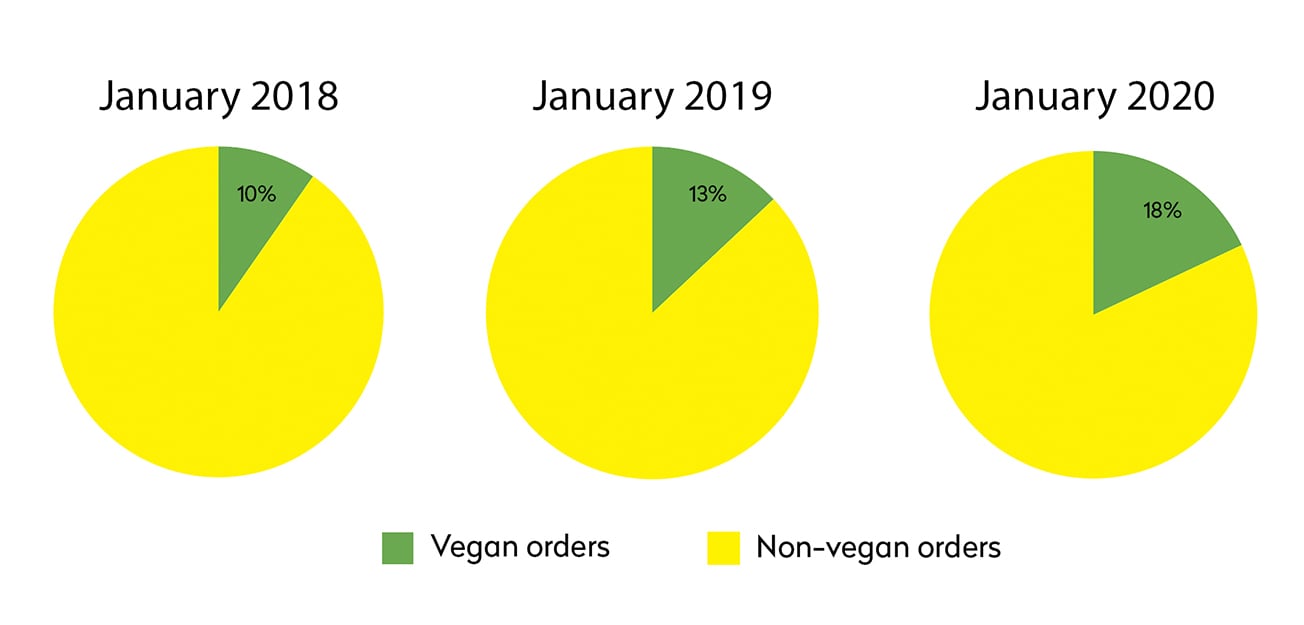 The year-on-year increase in vegan orders during January may come as little surprise given the growth of Veganuary participants since the campaign's launch. However, what is interesting is when we look at average vegan orders over the course of the entire year, there is a very clear upwards trend. This could indicate that veganism and flexitarian eating is becoming less of a new year's resolution and more incorporated into people's everyday habits.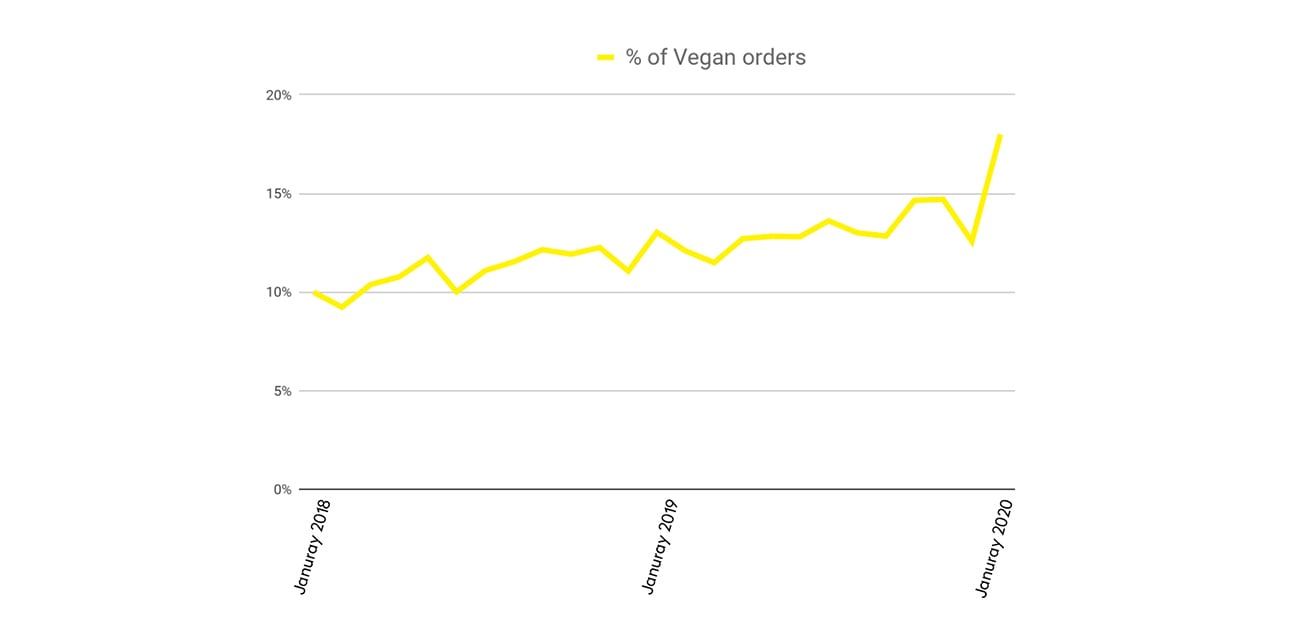 Whatever the individual motivations, it's undeniable that Veganuary has continued to grow in popularity year after year. And the changes some people are making to their eating habits appear to be lingering long after 31 January. While it's still unclear if a population of entirely plant-based eaters is in our immediate future, what we can start to see a move away from the "fad" of veganism and individuals being more mindful of what they're eating and making a conscious effort to cut down on their meat consumption.